Services
Since 1952, the major objective of the Preston Veterinary Clinic and Hospital has been to make a significant and positive difference to the lives of the pets and people it serves. We understand that your pets are really like family members and we aim to help them live happier, healthier lives by focusing our energy solely on pet health through both medicine and surgery.  In line with this, we have made a conscious decision not to sell any pet merchandise so that we can direct our efforts entirely towards what matters most—the health of your loved pets and at the same time providing emotional support for their owners.
We aim to provide a calm and soothing environment for clientele and staff alike, which is why you won't find any advertising posters on the walls of our Clinic.  All staff are devoted to providing a caring environment that treats all pets and people with dignity, kindness and respect. The Clinic always has been and always will be, privately owned and is not part of a franchise, so all decisions are made solely by Vets in the best interests of the pets in our care.
Finally, we are very proud of our Clinic and welcome inspections at any time without prior arrangement.
Hospital Facilities and Services
We provide a large on-site car-park, reserved for clients only. As well, a ramp to the front door provides easy access (especially for our disabled clients) and the automatically opening door allows convenient entry. Every room in this new, purpose-built Hospital enjoys natural light and climate controlled air conditioning, for both patient and client comfort. Hospital grade floor and wall vinyls have been used throughout the building as well as modern benchtops for ease of cleaning and infection control.
CONSULTING ROOMS
Our Consulting Rooms are spacious and each has an ergonomic, electronically controlled consultation table. The Clinic uses computer software designed specifically for the Veterinary industry which allows us to keep accurate records of patient medical files and attach relevant digital imagery.
PREVENTATIVE MEDICINE / VACCINATIONS
Regular health checks and vaccinations are an important  way of putting more life in  your pet's days and more days in your pet's life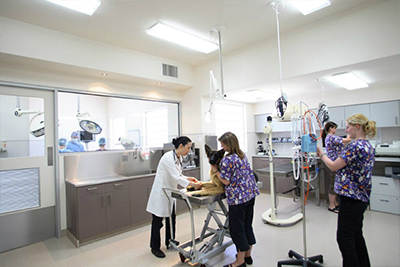 PREPARATION / TREATMENT / EMERGENCY ROOM
This busy area is the hub of our Hospital. In it we prepare pets for surgery and perform procedures (such as dentistry and endoscopy) which do not require the sterile environment of the Operating Theatre. The Preparation area is situated in the middle of  our Hospital and has easy access to the waiting room via a wide corridor. Consequently emergency cases can be quickly taken straight through to this area for treatment. This central area is immediately adjacent to Radiology, Laboratory, the Operating Theatre and Recovery Room. The hydraulic mobile table facilitates easy transfer of sick pets to each facility.
SURGERY
Surgery ranging from complex orthopaedic and soft tissue to routine desexing is available. The Operating Theatre has an electronically  controlled and heated operating table, a piped gas supply to a modern anaesthetic machine, surgical suction, electrocautery, and numerous electronic patient monitors just like in any human theatre.  Although these monitors do help make surgical procedures  safer, the best safeguard is our policy to always have at least one experienced Nurse, and in more complex cases, a number of Nurses or Vets, monitor every anaesthetic so the Vet/Vets operating can concentrate solely on performing the surgery.
ENDOSCOPY
We provide an in-house Endoscopy service for our patients. We have our own endoscope tower with three gastroscopes, two bronchoscopes, a colonoscope, a ureteroscope and telescopes. The advantage of having numerous sized endoscopes is that it gives us the ability to examine most areas of different sized patients.  For example, our 9.8mm diameter gastroscope would be used to view a Great Dane's stomach whilst our paediatric 7.9mm diameter scope would be ideal for a small terrier or a cats' stomach. Endoscopy provides us with a way to observe internal organs, take biopsies of those organs when disease is suspected, as well as a way to remove foreign objects without invasive surgery.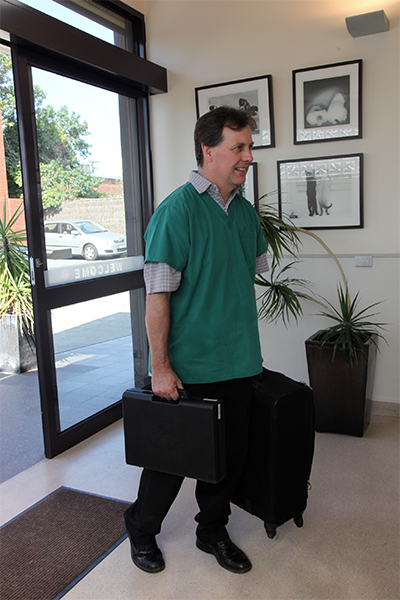 VISITING VETERINARY SPECIALISTS AND CONSULTANTS
We are fortunate to have Veterinary Specialists and Consultants come to our Clinic when required to help us diagnose and treat certain complex medical conditions.  Many clients have really appreciated being able to have experienced Specialists help treat their pets in the convenient, familiar surrounds of our Clinic.
ULTRASONOGRAPHY
Ultrasound is used when required, by Visiting Veterinary Specialists with expertise in this field. They use a color Doppler ultrasound machine  which is great for examining the heart (echocardiogram) and their interpretation is always reliable as they have years of experience.  It is fine having an ultrasound machine in a Vet practice but even better if a Specialist can properly interpret the images.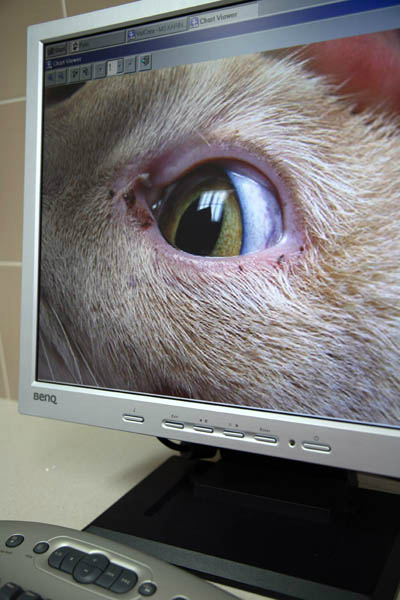 DIGITAL IMAGING
As the old adage says," a picture tells a thousand words".  By adding digital images to patients files, we can more accurately monitor particular problems.
DIGITAL RADIOLOGY
Excellent radiographic images are consistently obtained with our powerful X-ray machine  with digital  imaging. The DR digital system delivers  instant, high quality images that can be magnified etc as required.   Other advantages of using a digital system are that pets are exposed to less radiation and shorter  anaesthetic time (through not having to repeat X-rays as often) and our staff are not exposed to harmful processing chemicals.  With no nasty chemicals to dispose of  it's better for the environment too!
Images can then be sent to specialist Veterinary Radiologists around the world for a second opinion, if needed.  The images can also be attached to the patient record for future reference.
DENTISTRY
Studies show, that 80% of pets that come to a Veterinary Clinic, for whatever reason, have some sort of dental disease, so it's an important aspect of pet health. Offensive smelling breath or discolored teeth are signs that a trip to the Vet is needed.  We routinely perform all types of  painless dental procedures including ultrasonic scaling and polishing, teeth extractions etc.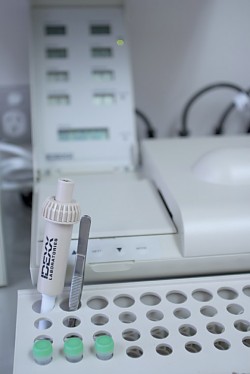 IN-HOUSE PATHOLOGY
In our full IDEXX Laboratory we can perform complete blood counts, electrolyte analysis, biochemistry analysis and more.  The ability of the Clinic to perform full blood profiles both expedites and enhances its diagnostic and treatment capability.  It is very satisfying to be able to quickly feed back pathology results to waiting clients (sometimes before the end of the consultation) so that appropriate treatment can commence immediately.  We also have access to major pathology laboratories when analysis of biopsies or more complex blood tests are required.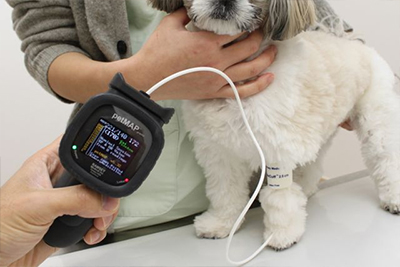 BLOOD PRESSURE MEASUREMENT
Determining a pet's blood pressure is an important diagnostic tool that is performed in-house using a simple but accurate device.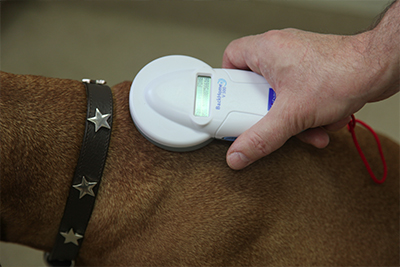 MICROCHIPPING
On a weekly basis our Clinic sees lost pets reunited with their very relieved owners who have been tracked down through the details within the pet's microchip.  Inserting the tiny microchip, which permanently stays under the skin at the back of the pet's neck, is a painless and very quick procedure.  This is one of the best things you can do for your loved pet.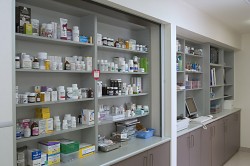 PHARMACY
We stock a full range of prescription and non–prescription medications. We have invested in a professional pharmacy refrigerator, the same type recommended by the Pharmacy Guild of Australia. This specialized fridge can be found in human pharmacies and hospitals. The advantage of a pharmacy fridge is that it maintains a uniform temperature range across the cabinet  (unlike a domestic fridge designed to store food) and therefore ensures the efficacy/potency of the vaccines and other drugs we use on your pets.
HOSPITALISATION
Pets admitted into our Hospital for any reason are kept as comfortable as possible. All stainless steel pens are equipped with a special rubber slatted mat to keep pets raised off the base of the pen. On top of that a soft, warm fleecy  veterinary bedding called "dry-bed" is placed which allows fluids to drain through it, thus keeping pets dry.  An efficient drainage system integrated into the pens then takes the fluids away. Heating pads are used in the pens when necessary.  This area of the Hospital has an independent air conditioning system allowing optimum temperature control for pets in the Recovery Room.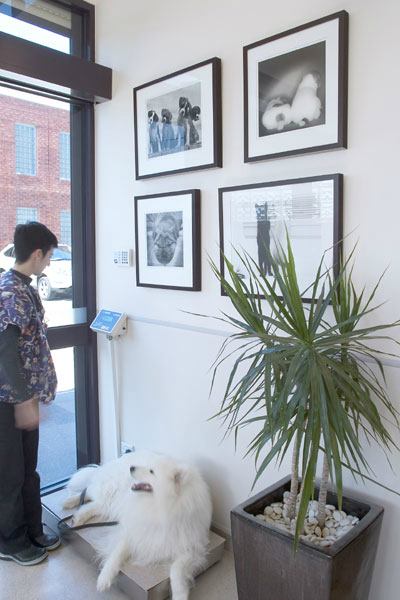 WEIGHT LOSS CLINIC
Our trained Nurses offer a free service of regularly weighing your pet and offering nutritional and exercise advice to help your pet shed those excess kilos.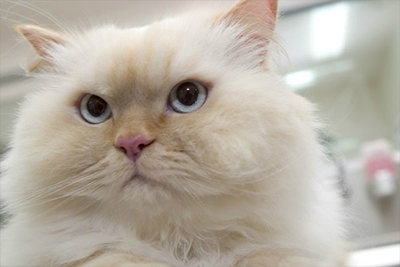 BOARDING FOR CATS
Experienced Nursing staff are available to look after cats during short term boarding stays.  Individuals with "special needs" or requiring  medication administration are always welcome and plenty of cuddles are always provided!
BEHAVIOURAL ADVICE
It is always very satisfying working together with clients to help their pets achieve better behaviour and mental balance.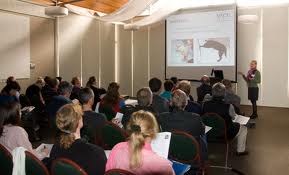 CONTINUING EDUCATION
We strive to maintain a pleasant, stimulating working environment and both Nurses and Vets regularly attend conferences and seminars to keep their knowledge up-to-date.
Staff are trained in the most current medical procedures and meet regularly to discuss and implement new ideas, treatments and procedures.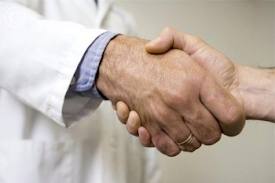 FINANCIAL ASSISTANCE
We are happy to offer:
Interest free payment plans*
(*conditions apply)
Pensioner discounts
Advice on Pet Insurance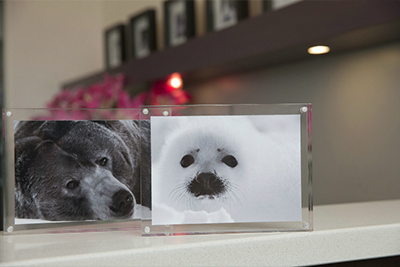 DONATIONS
In 2012 we decided that it would be the right thing to do to start donating some money to animal welfare charities such as W.S.P.A and Humane Society International. As a Vet, it's very hard to look into the eyes of a powerful bear kept in a cage or a helpless harp seal pup about to be clubbed to death and not want to do something. The way it works is simple:  Every time a client comes in for a consultation we put a single glass marble into one of the 2 vases in the reception area. Each marble represents one dollar. When both vases are full of marbles we count them and send off a cheque. We anticipate being able to donate between $8,000-$9,000 annually.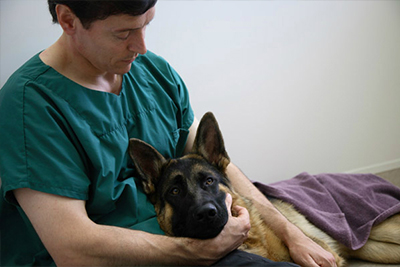 AFTER HOURS EMERGENCY SERVICE
Speak to the Vet who invariably knows you and your pet "personally".
For after hours emergency service, please contact Dr Robin Zelesco on 0412 267 271.
Back to Top